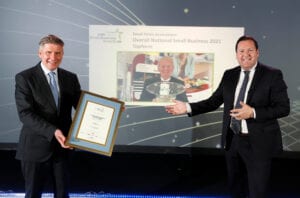 Paul Glynn accepts the National Small Business Award 2021 from the Small Firms Association
Topform Win National Small Business Award
Topform are delighted to win the Manufacturer of the Year and the Overall National Small Business of the Year 2021 at the recent SFA Awards. The prize was accepted by Paul Glynn MD.  He acknowledged that he is only one member of a strong team of highly committed people.  These awards are highly contested and we are delighted and surprised to come out on top of the group as winners.
"This is not for me personally" commented Paul, "Someone had to accept the award on behalf of Topform but it was won by everyone working at Topform.  If somehow, we could all have been there it would have made the event perfect.  We are very sorry for those who did not feature on the night.  We had that disappointment in the past and it made us more determined to be a better company for the future.  We congratulate them all for being selected in their categories."
Winner of the Manufacturer of the Year
Topform were nominated in 2 categories, unfortunately we didn't win Exporter of the year – congratulations Kora Healthcare. We did win the Manufacturer of the Year category which is the result of a concerted effort and commitment to Lean development on the factory floor. "A strong workforce of individuals dedicated to being the best they can be every day is key. The team aim to make every worktop on time every time," said Production Director, David Prendergast. "This is an acknowledgement of 30 years of hard work, doing the basics right each day and looking at continuous improvement in both our people and process. I couldn't be more proud of the people here at Topform," added David.
National Recognition of Topform Excellence
Announcing the winner, Graham Byrne, SFA Chair said: "Topform is a model company for indigenous businesses in Ireland. It is a strong profitable company that strives to be the best in its industry with a focus on continuous improvements. The company was the overall winner of the SFA National Business Awards in 2016 and has doubled its turnover since then. Topform's intention for the next five years is to again double its turnover through organic growth".
Lastly, we are only successful due to our customers, if our product was not up to scratch then they would be the first to let us know. We know there is a huge range of options for people when purchasing a kitchen worktop so this award is also for them. We look forward to continuously working with you.